MAPS & OTHER USEFUL LINKS ONLINE . . .
Yellow Pine topo map segment from 1943: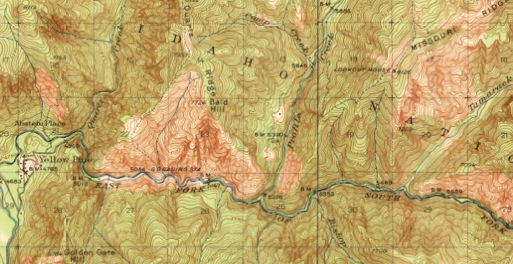 **CLICK HERE for the YPBHM's Outdoor Store - ATLASES & MAPS - on Amazon.com**
USGS topographic maps
http://cida.usgs.gov/hqsp/apex/f?p=262:1:36614616756604:
This takes you to the search page – entering "Yellow Pine" in "Idaho" will take you to the Yellow Pine quadrangle maps. See also other nearby towns such as Big Creek, Edwardsburg, Stibnite, Warm Lake, etc. (These maps are in a range of dates, many not very old – but a few go back to the 1930s and 40s.)
http://www.natgeomaps.com/trail-maps/pdf-quads:
A new resource from National Geographic - free, easily printable USGS quads in .pdf format (4 segments per quadrangle), with an overview showing the area surrounding the full map as well. Shading has even been added to make the contours easy to read. Zoom in on U.S. map online to find your desired location, or use searchbox. Download the quad to your browser or computer. A wonderful resource!